I've read some great books this winter and have told you about some of them and here are a few more. Enjoy!
I just finished the eagerly awaited memoir by Margaret Roach,
And I Shall Find Some Peace There.
I personally loved the book since I'm an avid follower of her very practical and funny garden blog,
A Way To Garden
. Check Favorite Links on the right side of my blog if you'd like to check it out---and I highly recommend that you do. Margaret was a senior executive with Martha Stewart Living Omnimedia where she began as the first garden editor. She had an illustrious career in publishing working as editor for the New York Times, Newsday and then MSLO. She also wrote an award winning gardening book, also called,
A Way To Garden
.
Margaret is an eloquent writer who easily grabs you out of your chair and sits you down with her directly on her little acreage. There she tells her story of leaving her high flying & hugely successful career in NYC and moving to her place in the country. It's not quite that simple though. You learn how gut-wrenching and downright emotionally scary it is at times for her, how she second guesses herself at times, how she becomes self sufficient on her small hilly acreage through all seasons including frigid winter and summer thunderstorms; and with great charm explains the creatures who share her "little piece of dirt road"--- the toads, the snakes and Jack the demon cat. It is a warm, heartfelt, deeply personal, funny and hopeful memoir. Certainly worth the time to read. If you're thinking of chucking it all for a different life, this is a great tutorial. I experienced many of the same emotions and lessons when I made the decision to retire from my career. I'm happy with my decision and resonate with Margaret in how she has through everyday living come to that content place in her soul.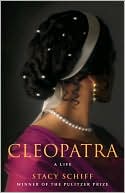 An amazing historical biography,
CLEOPATRA - A Life
by Stacy Schiff who is a Pulitzer Prize winner. Ms. Schiff is a remarkable researcher and author. In this biography she brings to dazzling life the times and persona of the last queen of Egypt. I was amazed at the imagery she used to describe Egypt during Cleopatra's reign where women were full citizens with full rights and where the sciences, beautiful architecture and literature were highly valued. Cleopatra had a first rate education for the times and was considered an expect military strategist and exceptional leader with a remarkable work ethic. Of course there was all the palace intrigue one would expect, love affairs, children, and murders which made for interesting reading too! I found the story spellbinding. If you are a biography buff, you will find it a great read.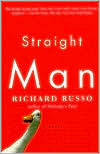 Straight Man
by Richard Russo, the Pulitzer prize-winning author of Empire Falls. "[Russo] skewers academic pretensions and infighting with mad abandon...in a clear and muscular prose that is a pleasure to read...I had to stop often to guffaw, gasp, wheeze and wipe away my tears." - Henry Kisor, Chicago Sun-Times. I couldn't say it better myself. A fun read.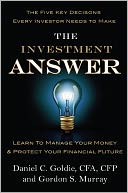 The Investment Answer
by Daniel C Goldie, CFA, CFP & Gordon S. Murray. A little book with a huge punch of advice.
This is an excerpt from the New York Times review that compelled me to get the book.
"There are no one-handed push-ups or headstands on the yoga mat for Gordon Murray anymore. No more playing bridge, either — he jokingly accuses his brain surgeon of robbing him of the gray matter that contained all the bidding strategy. But when Mr. Murray, a former bond salesman for Goldman Sachs who rose to the managing director level at both Lehman Brothers and Credit Suisse First Boston, decided to cease all treatment five months ago for his glioblastoma, a type of brain cancer, his first impulse was not to mourn what he couldn't do anymore or to buy an island or to move to Paris. Instead, he hunkered down in his tiny home office here and channeled whatever remaining energy he could muster into a slim paperback. It's called "The Investment Answer," and he wrote it with his friend and financial adviser Daniel Goldie to explain investing in a handful of simple steps.
Why a book? And why this subject? Nine years ago, after retiring from 25 years of pushing bonds on pension and mutual fund managers trying to beat the market averages over long periods of time, Mr. Murray had an epiphany about the futility of his former customers' pursuits.
He eventually went to work as a consultant for Dimensional Fund Advisors, a mutual fund company that rails against active money management. So when his death sentence arrived, Mr. Murray knew he had to work quickly and resolved to get the word out to as many everyday investors as he could.
"This is one of the true benefits of having a brain tumor," Mr. Murray said, laughing. "Everyone wants to hear what you have to say." He and Mr. Goldie have managed to beat the clock, finishing and printing the book themselves while Mr. Murray is still alive. It is plenty useful for anyone who isn't already investing in a collection of index or similar funds and dutifully rebalancing every so often.
But the mere fact that Mr. Murray felt compelled to write it is itself a remarkable story of an almost willful ignorance of the futility of active money management — and how he finally stumbled upon a better way of investing. Mr. Murray now stands as one the highest-ranking Wall Street veterans to take back much of what he and his colleagues worked for during their careers."
Mr. Murray passed away in January of this year.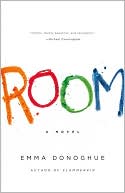 Room
by Emma Donoghue. Have you met Jack? ROOM is the remarkable story of Jack, a five-year-old boy who has lived his whole life in a single room. The story is rivoting. Give it a read - it's worth the time.
Dear Reader;
I enjoy hearing from you about your favorite books. Thank you for sharing. If you don't want to miss a post, you are welcome to get current updates of Country Life Tales by Subscribing (on the left of my blog) or signing up as a Google Follower (on the right side of my blog).
Delores